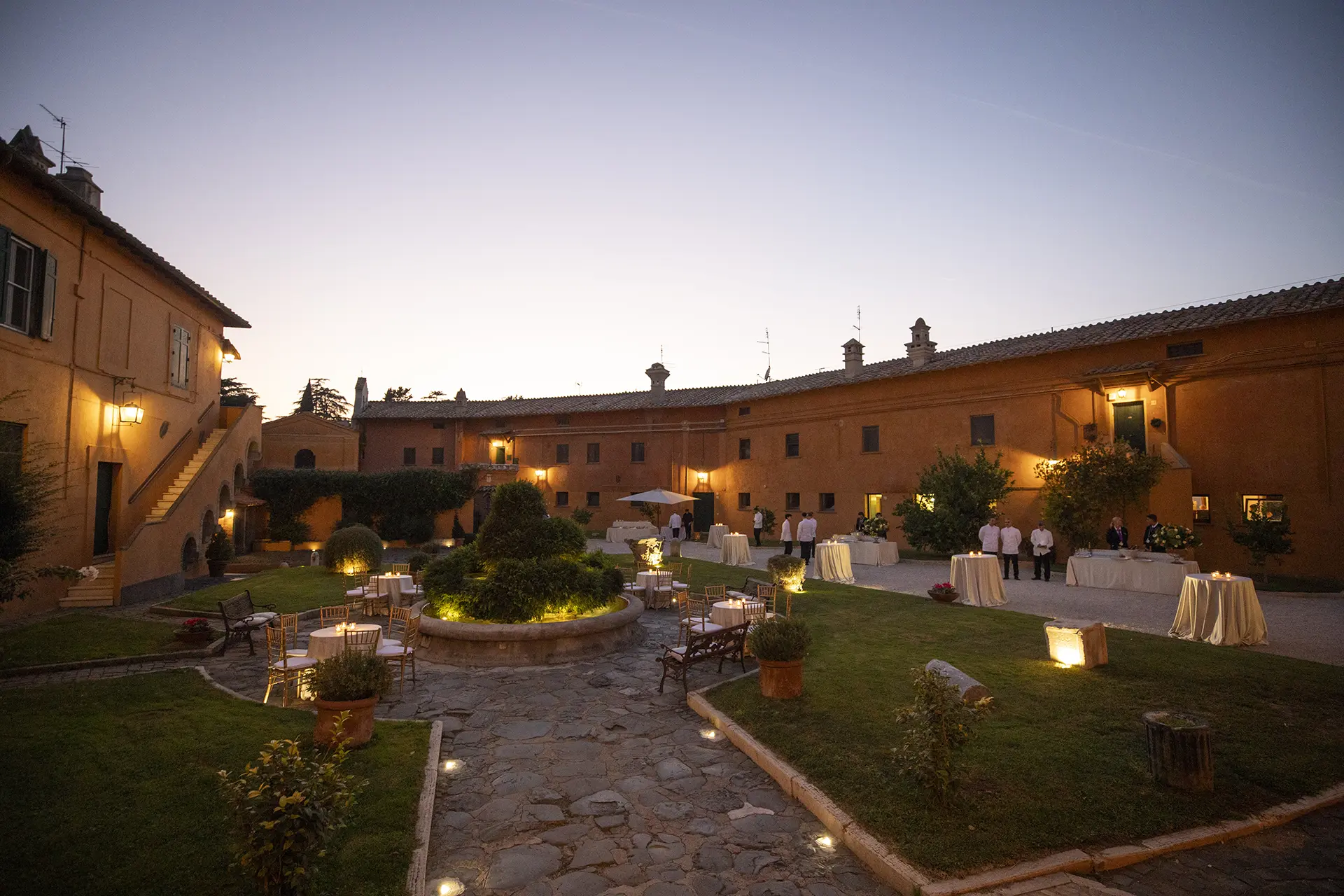 Our story
The Ancient Roots of Castello di Decima
Castello di Decima stands on the ancient consular Roman road leading to Lavinio, continuing towards Naples via the current Pratica di Mare on the Tyrrhenian Sea, at the tenth mile. In Roman times, there was a station at the tenth mile for changing horses – hence the castle's name ('decimo' for 'tenth' in Latin).
Archaeological Finds and Historical Legacy
Significant archaeological finds from the Latin people were discovered near the crossroad to Pratica di Mare: a chariot tomb from 750-725 BC, a female tomb from the mid-7th century BC, and other findings now housed at the Museum of the Early Middle Ages in Rome.
The fortress's main tower and the Church rest on tufa stone foundations, Roman walls, and extensive underground areas, which are remnants of a Roman bath.
Nearby, on a tufa stone plateau, stand the remnants of Latin walls, likely part of the ancient city of Politorium, razed by the fourth King of Rome, Ancus Marcius. Despite the decline of the minor consular roads in the waning days of the Roman Empire, the village has stood the test of time, remaining inhabited through the centuries.
The Castle's Evolution Through the Ages
Over the centuries, Decima Castle has been held by various distinguished owners. In 1768, Cardinal Luigi Torrigiani, Secretary of State to Pope Clement XIII, commissioned the construction of the palace at Decimo on the foundations of earlier buildings and refurbished the parish church dedicated to St. Anthony the Abbot as it stands today. In 1938, the estate was purchased by Count Romolo Vaselli, a prominent Roman entrepreneur of the early twentieth century, who immediately sought to improve the land. Significant irrigation canals were built, along with internal roads, and many farmhouses equipped with water sources and electric light. At the same time, innovative tobacco cultivation was introduced, and a modern peach orchard was planted. Numerous roads were opened, trees and a pine forest were planted, and substantial land reclamation began, all while maintaining the agricultural character of the place. His heirs have continued this work with significant restorations and continual improvements to the park.
The Castle today
The estate is currently part of the Decima Malafede Nature Reserve, which, at approximately 6,000 hectares, is the largest protected area within the Roma Natura park system. The church, dedicated to St. Andrew the Apostle and part of the Parish of Tor de' Cenci, contains an interesting coffered ceiling with the Torrigiani family crest.